Pixel In Packages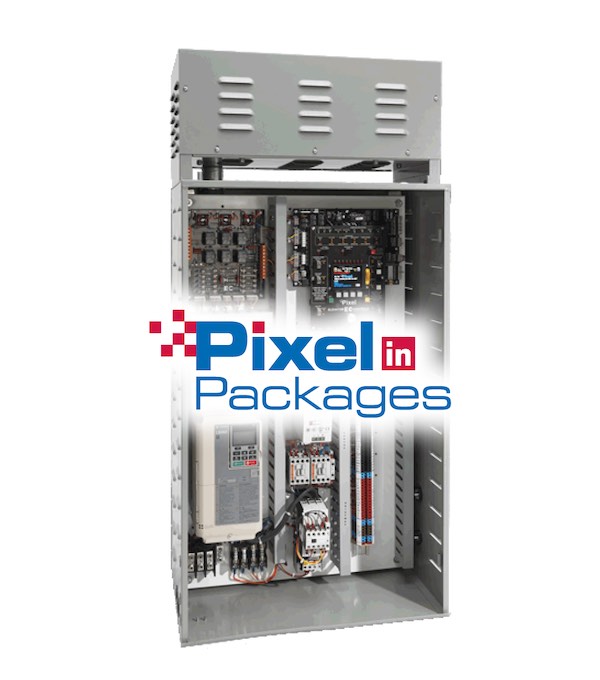 Package the Pixel Control System
Build your elevator packages with the Pixel Control System!
The Pixel Control System creates a more efficient elevator package. Our experienced engineering team integrates the Pixel into hydraulic, traction and MRL elevator applications.
The Pixel interfaces with most fixture manufacturers and all major automatic and freight door operators, creating a seamless link with other vital components of the package. With CAN-bus serial link communication available with the Pixel, communication among components harnessing the latest technology is streamlined and cost effective.
The Pixel Control System reduces additional components, eliminating vanes, switches and targets and reduces travel / hoistway cable count, in order to decrease the number of hours spent on each job.
With three points of access, installation is simple and efficient using an enhanced-color LCD display with an intuitive interface.
Keys to Successful Packages
The Pixel Control System adds value to the complete elevator package, creating a more efficient and streamlined package during the installation process. The following are ways the Pixel creates a more successful package.
Ease of installation
Reduces labor hours
Seamless integration with other products
Elimination of Vanes, Switches and Targets
Reduced Travel / Hoistway Cable Count
Reduces Labor Hours
The Pixel Control System reduces the number of hours spent on the job site. This engineered control system is designed to install, adjust and maintain faster than ever before.
Eliminates limit switches
Three points of system access
Built-in on-board diagnostics
Intuitive searchable menus
Pre-Wired Plug & Play Terminals
Pre-Wired CarTop Box with Inspection Station
Integrate the Pixel Control System into your elevator packages today and save!
Package Integration
Elevator Controls works with a number of elevator packagers to create quality and efficient elevator packages for all elevator applications.