Interact™ Monitoring System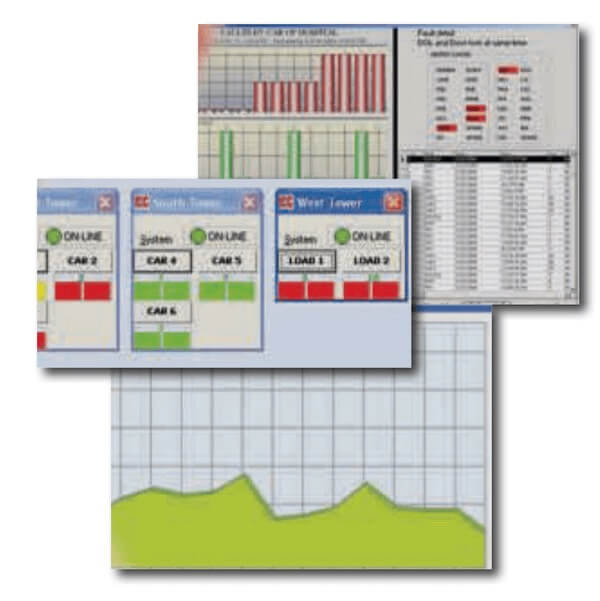 Interactᵀᴹ provides simultaneous display of multiple elevator systems on a single screen.
Intuitive point-and-click interaction and menu-driven navigation make Interactᵀᴹ powerful, yet easy to use. All reports can be graphically represented, and user preferences are easily set to format graph types, styles, display colors and even 3-D format representation.
A single multi-port PC running Interactᵀᴹ for Windows® provides transparent connections that are automatically created in the background – no more dialing and disconnecting one system at a time to get data or fumbling with cumbersome switch boxes to access multiple elevator banks.
Double-click on an elevator or system icon for real-time "drill down" access to interactive viewing and reporting options, including:
Traffic data and analysis
Operating sequence playback for troubleshooting
Fault logs
Elevator performance monitoring
Elevator system management
An online support manual with help screens resides within the program itself for instant context sensitive access to help. Interactᵀᴹ is interactive Command and Control for Elevators.
Traffic Analysis
Interactᵀᴹ provides the ability to access extensive menus containing numerous traffic reports, call management reports, and charts. Reports include calls per hour, per opening, per type (up or down) and per day; including wait times with minimum, maximum, average and standard deviation; and call distribution per wait time, per date, per hour, per floor, and per call type. Reports are easily exported in multiple popular formats.
Elevator Management
Interactᵀᴹ elevator management and monitoring software enables comprehensive interaction with the elevator system and management capabilities including: event scheduling with start/stop intervals, floor service car mapping and call lock-outs, security control parameters, extensive monitoring and flexible management functions, charts, reports and export capabilities.
Troubleshooting Tools and Fault Log
Interactᵀᴹ elevator troubleshooting features provide a wealth of information easily accessed via multiple menus, including graphs that detail fault types and status of critical elevator signals over time listed by type, by car, by date, by time, by floor and more. Fault details are listed with number of occurrences and associated relevant information including car position, car status, date/time of occurrence and more.